For Liang May, @mmlittlee on Instagram, parenting is never easy. She balances work as a Stay-at-Home Mum (SAHM) while taking care of her 1-year-old English sheepdog, Gypsie.
We reached out to learn more about her life, and the challenges she faces. Let's appreciate the hard work she puts in to take care of her family!
---
1. Hi there! Tell us more about your family.
We are Meyer, May, Ewan, Faye and Gypsie; An out-going and uncontrollable bunch!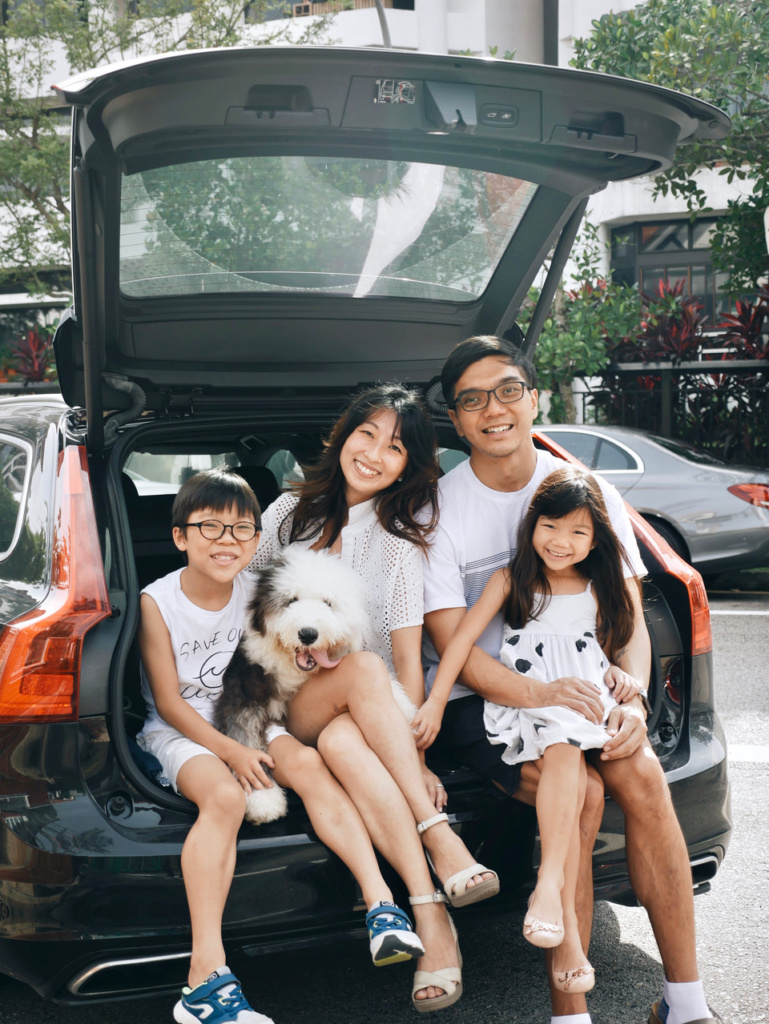 The kids are loud and their parents can be too especially when excited or in disciplinary mode. It's no wonder the pup has the voice of a loud hailer! She must have been nurtured into it when she became a part of our family a year ago.
We work hard but play harder as a team. Though we do set ground rules, we are also believers in free play.
2. Bring us through a daily life routine at home.
On a regular day, our children hit school and spend six hours away from home. Every morning, we send Ewan and Faye to school as a whole family unit. We never leave Gypsie home alone even if school drop-offs are less than 20 minutes. Gyps patiently waits for us to leash her up for her morning school runs while the children put on their school shoes and bags.
As much as we miss Ewan and Faye when they are off at school, we get to spend quality time as husband and wife. It is especially nice when we detour to a cafe to partake in a leisurely breakfast before starting work [at home]. Plus, our lucky floofy little one gets to bask in the morning sun while we indulge in cappuccino and poached eggs.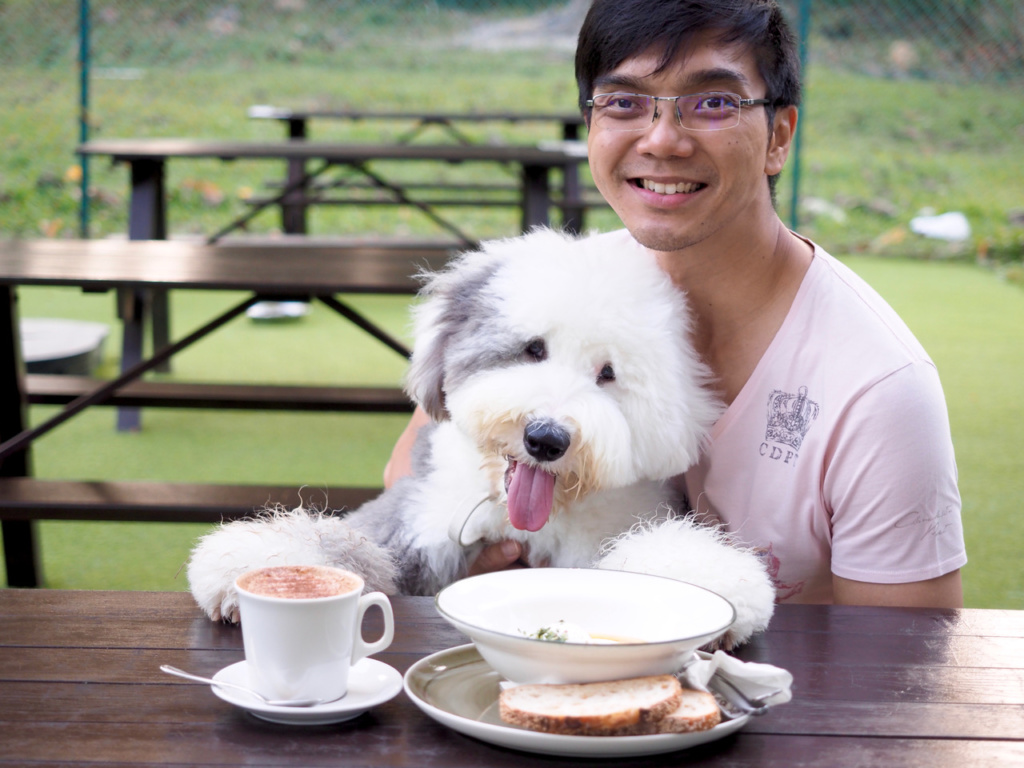 The Work From Home [WFM] situation now is really quite a blessing for us and especially for Gypsie. We are hardly away for hours at length and she's always got one of us home with her giving her belly rubs and playing fetch.
The Welcome Home [From School] ritual from the children and Gypsie is one that is extremely heart-warming to watch. From a distance, I will be able to hear Ewan and Faye squealing "GYPSIE!" as they run home. Gyps will portray her happiness with lots of pounces and licks. No rules here – just go crazy you guys with the Welcome Home!
For the rest of the day, we will go about our routines of school work, work work, relaxation and play. Dear Gypety Gyps will hang loose around us and wait patiently for her next walk!
When it is time to turn down, everyone enters the children's room too, well, put the children to sleep. Mommy and Daddy will sneak out to enjoy the rest of the night with Gypsie in tow. She will watch Netflix with us, wonder if she could snack on that crunchy salty bowl of snack we dip our hands into, gets combed and has her teeth brushed.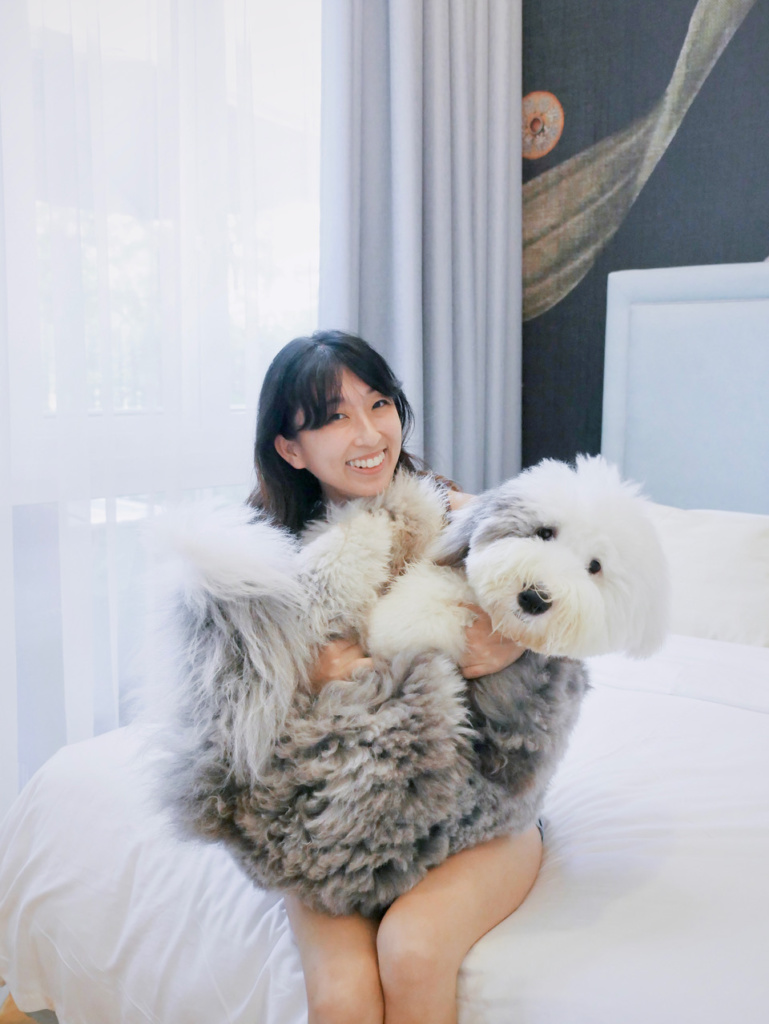 If she is lucky, she'd get a quick midnight walk under the starry sky should her daddy feels up to it!
3. What would you say are the main challenges you experience working as a SAHM mum plus taking care of a furpup?
Oh wow. This is a story to tell. Two weeks after we brought Gypsie home with us, Daddy broke his foot from parkour. He was out of action for months and things were thrown out of proportion from then.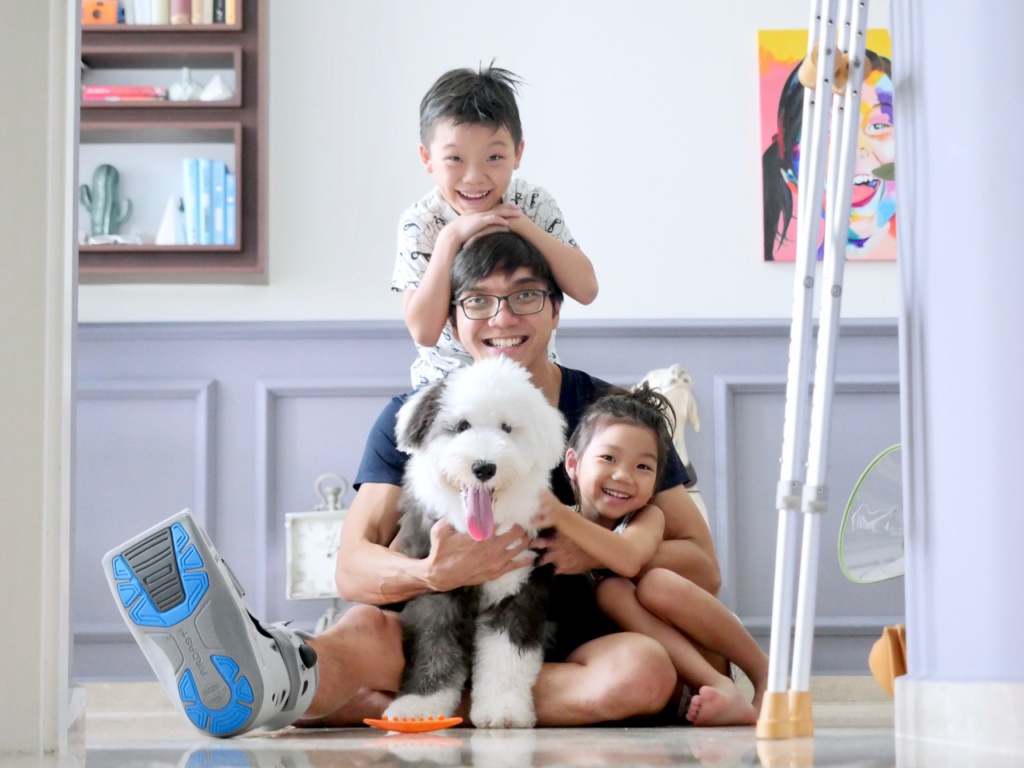 If you've never known about the challenges of raising a puppy, allow me to enlighten you. A puppy, like a newborn baby, needs to poo and pee almost every other hour. We had been taking turns to wake up in the middle of the night to bring Gypsie outdoors to do her business.
We decided to not crate-train Gypsie. Remember, we prefer Free Play and that includes "Freedom of Speech", "Freedom to Live" and "Freedom to Poo and Pee".
Initially, we thought of training her on a pee pad but quickly decided to have her outdoor trained as she showed a preference to it even as a three-monther. She is after all a large breed and would eventually "grow out of" a pee pad. We also kept in mind how we can cut down on wastes to help our environment, we sacrificed sleep and brought her out [whenever she called] five times a night between 12am to 7am every day for a few months.
The biggest challenge I faced during the time Meyer broke his foot was to single-handedly take care of every toilet runs, walks and feeds. Not to mention two other human rascals who needed help with school work and of course, cooking and feeding the family.
Without a helper at home, it got really draining but I persisted out of love for my family. Eventually, it became a routine and I got used to it.
What can't break us, makes us stronger!
As soon as Daddy recovered and out of crutches, everyone rejoiced! Having Gypsie is a shared responsibility from everyone at home. With that understanding, life as a paw-family gets a lot more enjoyable. The dog is happy, the children are happy, mommy is happy and then, Daddy will naturally be happy.
4. What motivates you as a paw-rent?
The smiles and health of my children.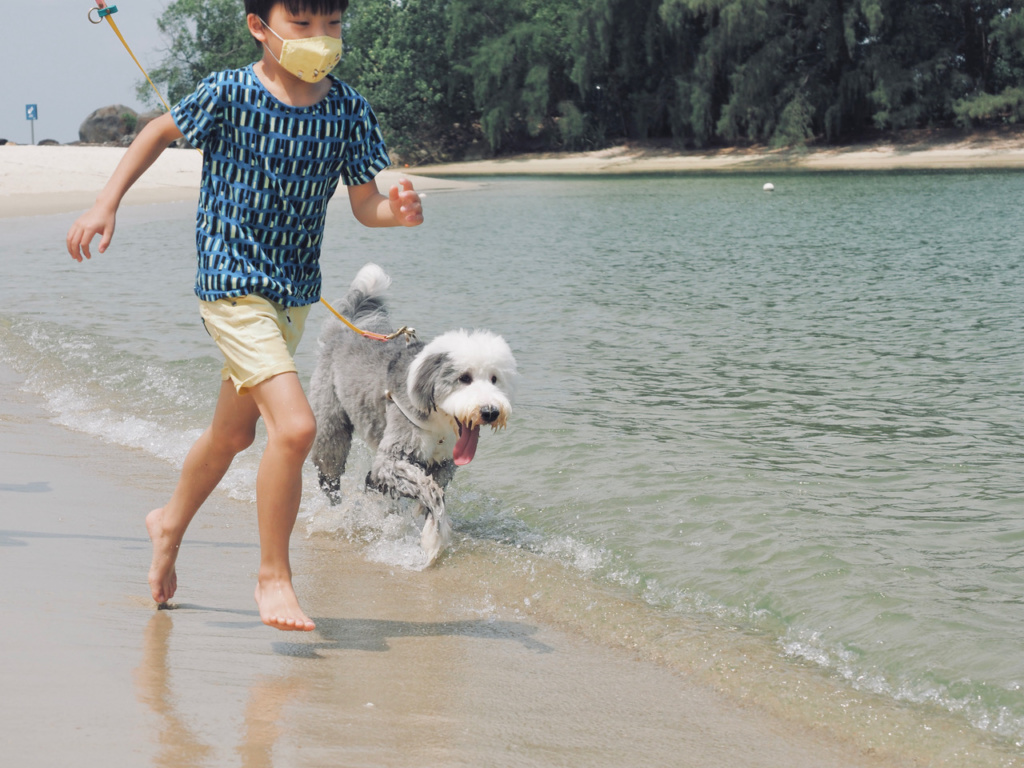 Additionally, I also look forward to every outing in the family calendar. When the week gets dreary, I count down to our next beach outing or the next dog run or staycation or anything that frees our minds from any kind of work. But one that involves every single member of our family.
5. What advice would you give to those struggling to balance their duties as a parent and a pet owner?
First of all, embrace the presence of your new Furkid. For us, Gypsie is our baby, our third child. The love for her burgeons and naturally, we struggle less even though the extra commitment is real!
Paw-rents, like parents, guilt trip themselves too when they see other puppies get more than their own. Social media can be a toxic space for comparisons and I must stress, how we should not compare or feel inadequate when judged by others.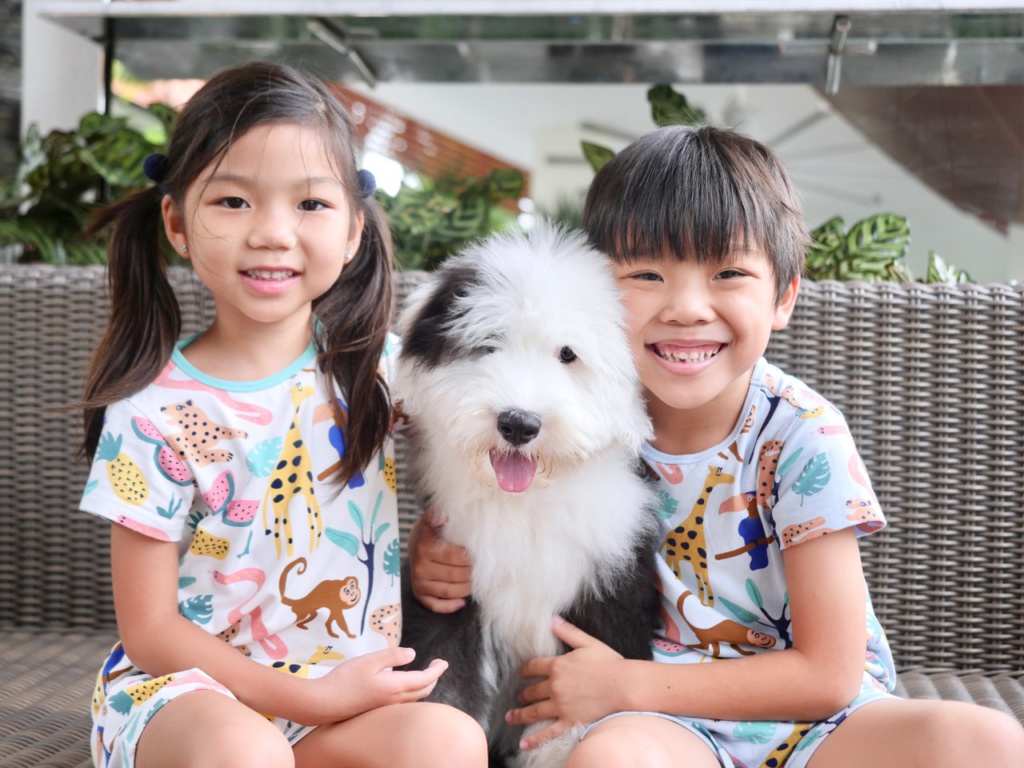 To be honest, I felt a little sorry we did not have time to send Gypsie to puppy training when we had her. There were a lot of self-doubts about our paw-renting style and if we were doing it right for our dear puppy Gyps. But I just couldn't, especially when Daddy had to go into surgery for his foot and the children going to school every day.
We decided to bring Gypsie up like how we bought Ewan and Faye up. There were no baby training schools or manuals to read. We parented them through trial and error and so we shall do the same with Gyps.
She is an extremely clever pupper but there was no time for fancy trick training because I would be knackered by the time I finished grooming her at night. I always say, "It's her paw-rents who aren't very clever." *haha* But in reality, we are stretched with all that we have on our plates. That doesn't mean we are doing her any less because Gypsie Gypety Gyps Gyps is one happy child. It doesn't matter if she understands only Sit, Down, Paw, Stay and Let's Go!
It matters a lot more to her that she is loved.
And that this family of hers loves her so very much.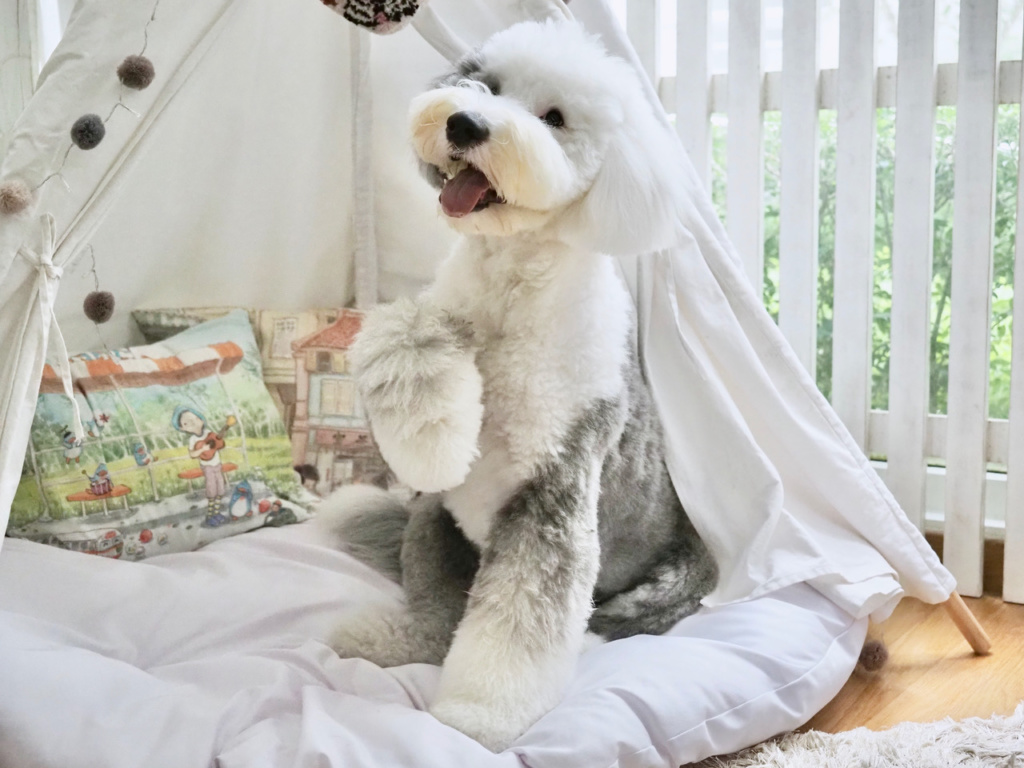 ---
A big thank you to Liang May for sharing her insight into double pa(w)renting! We are truly impressed by her ability to juggle both work and taking care of her family members.
* This blog is designed to be a community where pet owners can learn and share. The views expressed in each post are the opinion of the author and not necessarily endorsed by Pawjourr. Always consult your veterinarian for professional advice.