Finding your best friend makes the world a brighter place. Especially when he comes in the shape of the cutest Golden Retriever. The epitome of sunshine, the fun-loving star isn't only a bundle of joy to be around – he's a star too! Shayne just wrapped up filming a Mediacorp drama, so look out for him gracing your screens soon.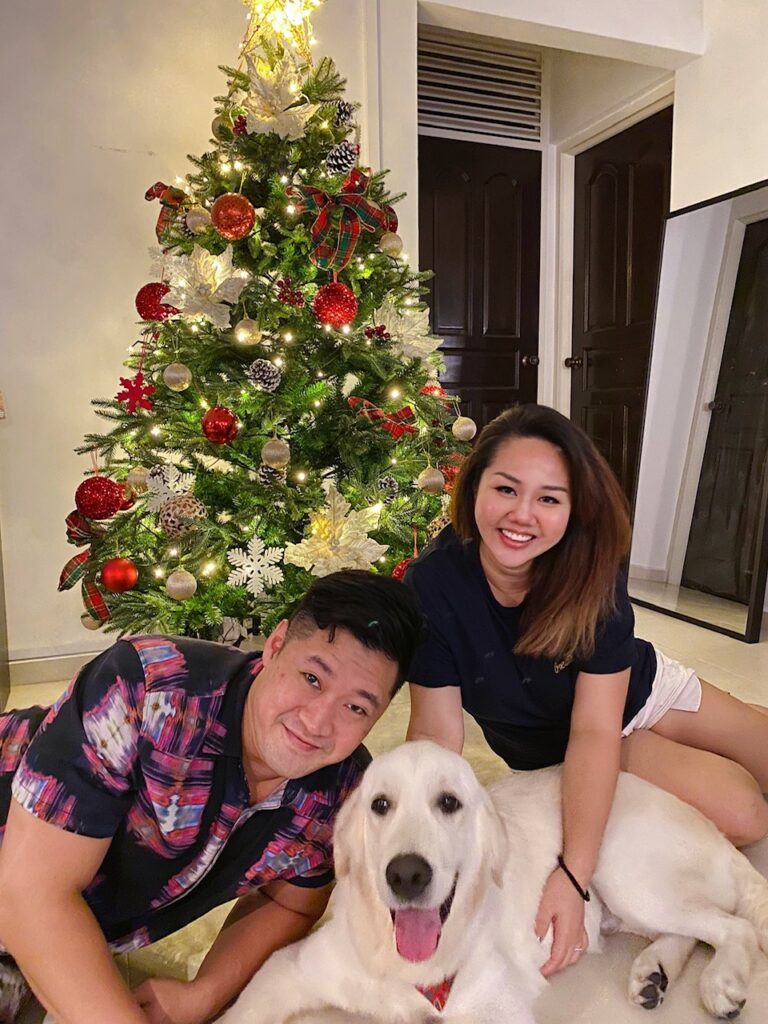 Love At First Click
Livia first saw Shayne online. After doing rounds of extensive research, Livia first laid eyes on her best friend to-be through videos of Shayne playing in his dog pen with all his toys. She knew he was the one when he calmed immediately when a human would pet him.
"He looked so calm and enjoyed the stroke of human touch. I knew instantly he was the one when I couldn't stop sharing the videos of Shayne with my loved ones," exclaimed Livia.
That was all it took for Shayne to be flown to Singapore to his forever home.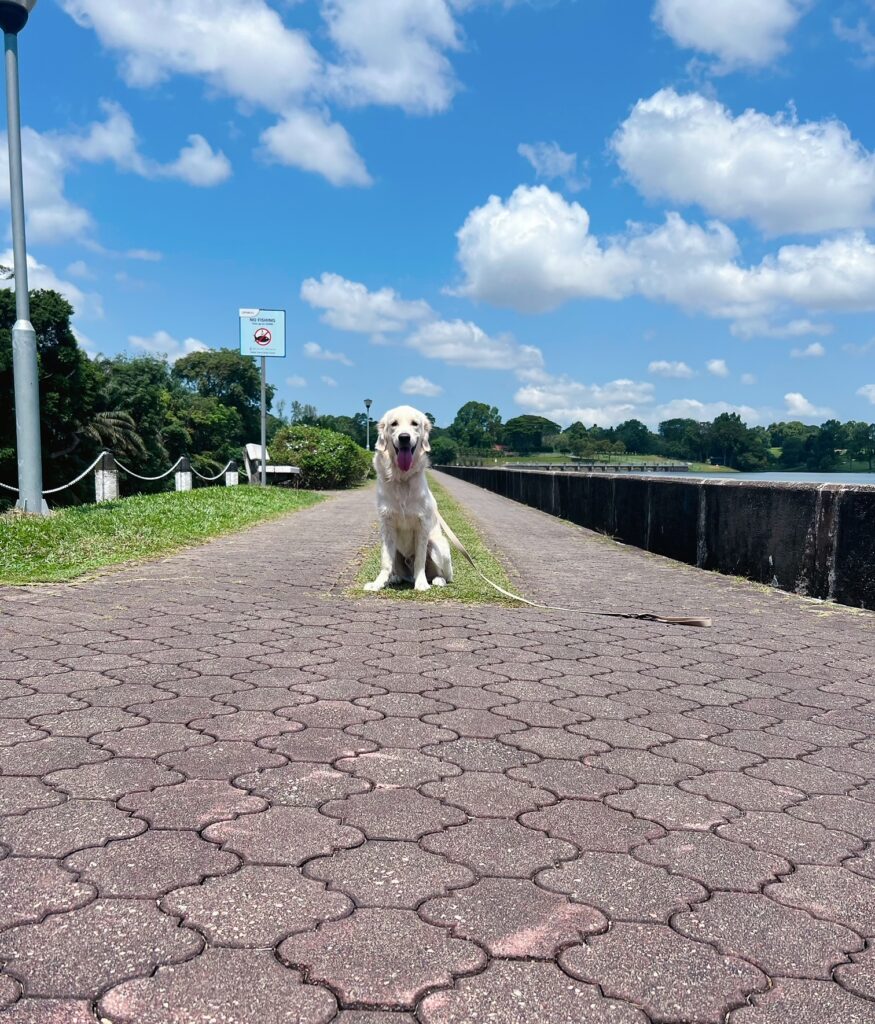 A Ray of Sun-'Shayne'
Shayne, a bundle of joy and a whole lot of energy, loves to swim. His pawparents encourage his passion for the waves, bringing him to frequent swimming sessions on the weekends. He also goes for playdates with the dogs next door and visits pet-friendly cafes – Livia wasn't kidding when she said he was outgoing and energetic!
Even so, enjoying quiet time as a family is something treasured between this paw family too.
"My partner and I will usually watch Netflix on the sofa together after a long day of work and Shayne will lean on us as we watch TV," said Livia.
"Shayne even watched TC too! Especially when he sees dogs going after a ball or a toy. He will stand right in front of the TV to have a closer look if he needs to 'inspect' what's going on."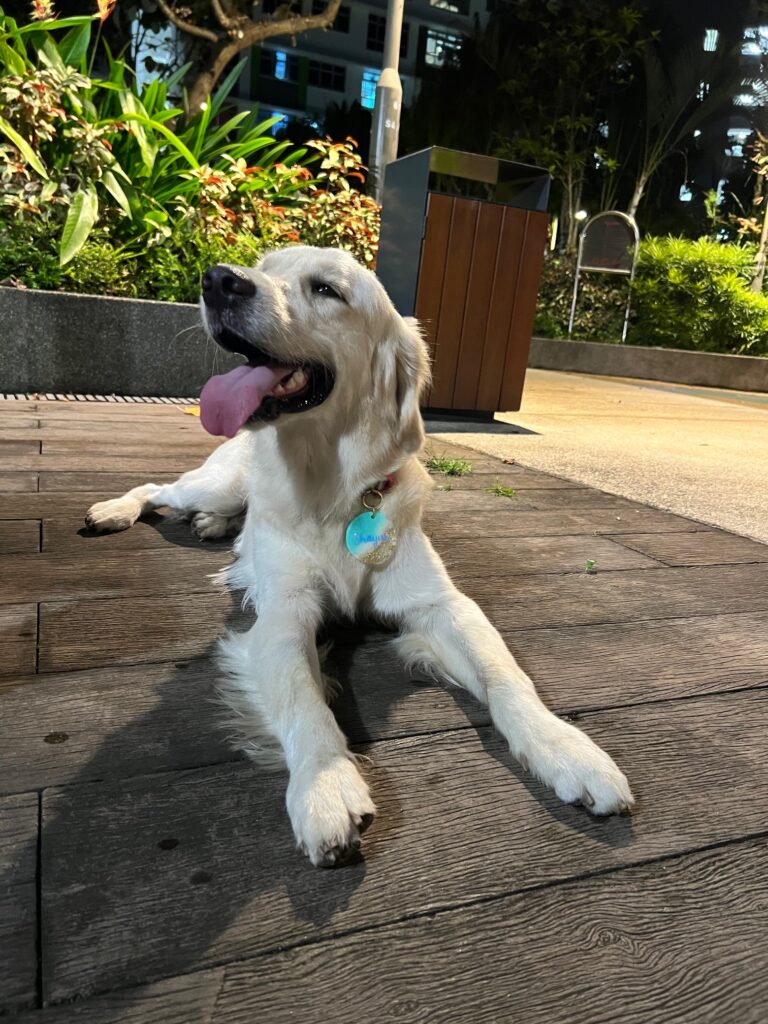 Worries, Prevention and Protection
For a dog like Shayne, one of the biggest fears Livia faces is potential hip problems that would affect his active lifestyle.
Despite getting good hip scores as a puppy, hip dysplasia is common amongst Golden Retrievers and Livia doesn't want to leave anything to chance.
"We took preventative measures to minimize his risk when he was barely five months old. We took him to a vet and did a JPS surgery, an early intervention procedure that significantly reduces the chances of hip problems," said Livia.
The medical costs for procedures like hip replacements now are very costly. Livia and her partner decided on getting pet insurance to avoid financial worries becoming a factor in deciding between having treatment – anything that can be done for their furkid in the future was important.
"It gives us peace of mind when the pet insurance provides a comprehensive cover, which is what HappyTails does. Even for hip dysplasia," said Livia.
When Shayne visited the vet a few months ago, his hips were thankfully in good condition and he doesn't look like he'll be in any danger anytime soon. This ball of sunshine can play to his heart's content.
*Bonus Question*
If Shayne could speak hooman for 7 days. What would you say to her for that week?
"I would want to tell Shayne to trust that we will give him the best life we could give to him! To tell him how much we love him and how much joy and laughter he's brought into our lives! We are very grateful that he is the one."
"We want to hear how he feels about us too!"
* This blog is designed to be a community where pet owners can learn and share. The views expressed in each post are the opinion of the author and not necessarily endorsed by Pawjourr. Always consult your veterinarian for professional advice.