Have you ever wondered what it is like for a frontline healthcare worker during a pandemic?
For Rachel, a first-year staff nurse at a local acute hospital, the height of the pandemic's first wave in Singapore, she had to adapt to major changes. These included 'ignoring' her dog Bear and facing discrimination as a health care worker.
We interviewed her to learn more about her experience, and how we can do our part to respect and accommodate our frontline workers.
1. How did Singapore handle the COVID-19 pandemic, and how did this affect your life as a frontline healthcare worker?
I was a new graduate from NUS Nursing at the height of the pandemic's initial waves in Singapore and simply put, I had to hit the ground running. Staffing was scarce as many colleagues were deployed to other areas, such as the quarantine facilities and swabbing centres. I have had to orientate myself quickly. It was a drastic shift to working on rotating shifts, and I would find myself physically and mentally drained at the end of the day.
2. What is a local acute hospital?
An acute hospital is one that sees complex and urgent medical conditions and/or injuries that have a sudden onset. Such hospitals include an emergency department, intensive care, and a wide range of medical and surgical specialities. Patients usually receive active short-term treatment and stabilised, before discharging or transferring to a long-term care facility such as a community hospital. Acute hospitals in Singapore include Singapore General Hospital, KK Women's and Children's Hospital, Tan Tock Seng Hospital, and more.
3. Tell us more about your relationship with Bear.
I have known Bear since he was only a couple of days old. Bear was rescued by Mercylight Animal Rescue and Sanctuary in November 2016, along with his mother and 2 brothers from a cement mixer company. With eyes that have yet to open, they were left vulnerable to the dangers of fast-moving construction trucks and harsh weather. I was, and still am, a volunteer with Mercylight, and that was how I met Bear.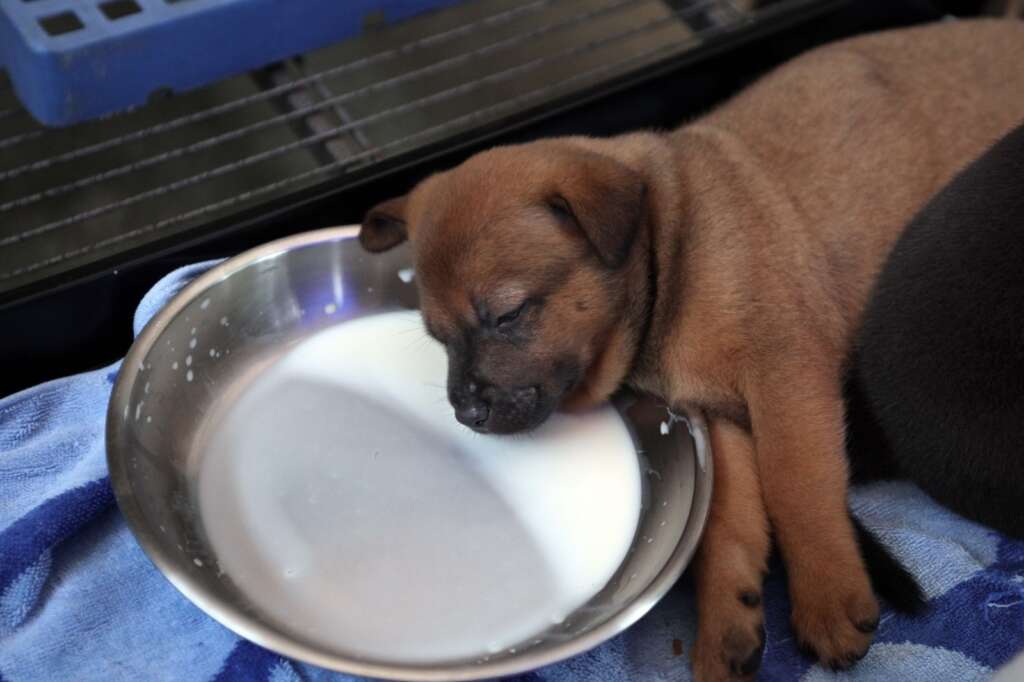 Initially, I was not looking to adopt Bear, as I was not confident in raising a puppy, and was looking at an older, calmer dog to call my own. As the years went by, my interaction with Bear increased through training for obedience competitions and trick performances. That was how I grew to love Bear's goofy and happy-go-lucky persona. After 4 years later, I officially signed the papers for Bear's adoption. I had decided to adopt Bear as my companion after graduating from my studies.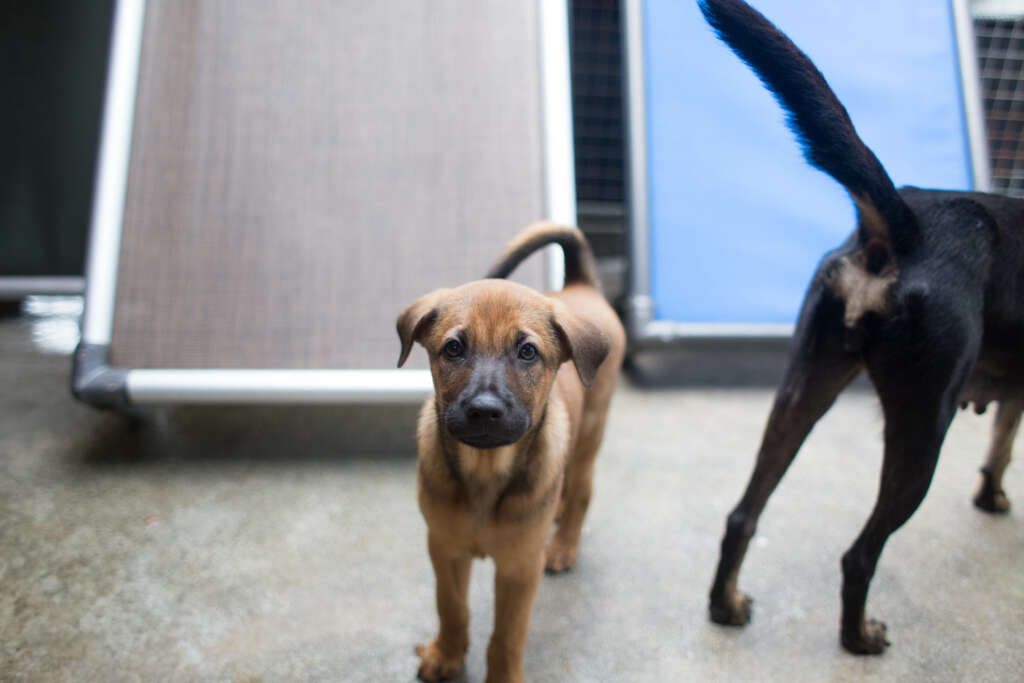 Bear is a people's pleaser and loved to be in the presence of my family. He loves physical touch and he would often paw anyone who's around him for attention. By some instinct, he knows when any family member is having a rough day and would offer his quiet company.
4. How has this changed since the outbreak?
As I have immunocompromised family members, I have had to be very regimented to keep everyone at home safe. While the protocols and weekly tests at the hospital have ensured so, I have had to keep a distance from Bear and my family members when I return home from work. I would head straight to the bathroom to wash up before interacting with them.
Bear is a huge cuddle bug and loves belly rubs. Bear's usual routine when I return home is to flop over on his back for belly rubs and grab the nearest toy to play fetch with. Just imagine a very confused, and often disappointed, Bear when he waits outside the bathroom!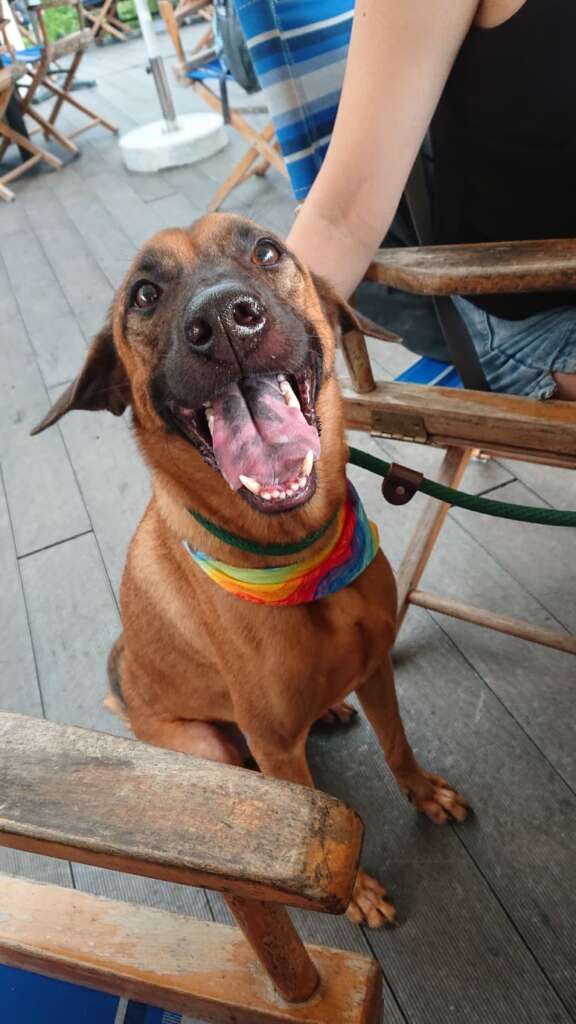 We have also decreased our outings and stayed at home. Despite this, we have made good use of our time by experimenting with different dog-friendly recipes, and also enriching Bear with trick training (we are currently working towards his Expert Trick Dog Title with Do More With Your Dog!).
Needless to say, Bear loves getting extra treats during trick training!
5. You mentioned encountering differential treatment. Could you elaborate on your experience?
Oftentimes, those who have not met Bear before would often assume that Bear is aggressive and had biting tendencies. Parents could be seen dragging their children away, and heard saying 'he's [Bear] is coming to bite you'. I guess it has to do with his tall stature and his unique looks as a Singapore Special. However, that could not be further from the truth!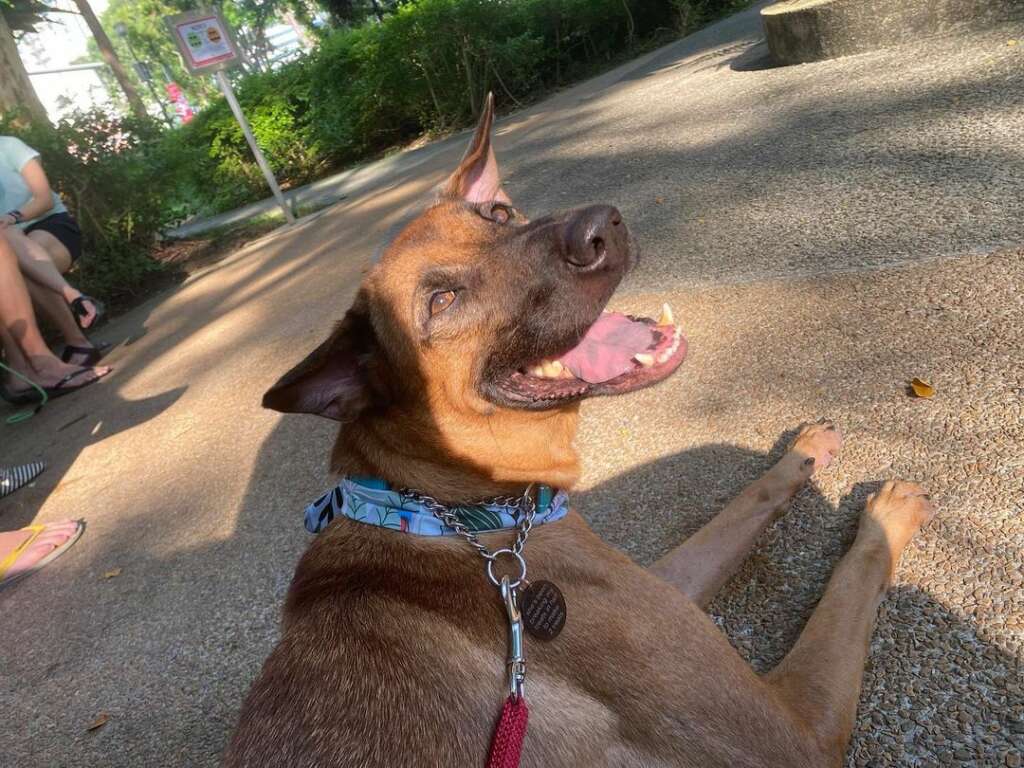 These experiences would be made worse when they learn that I am a healthcare worker. Some are gracious in their interaction, while others would have visceral reactions such as disgust. While I have learned to take it in my stride, it still upsets me when there are still members of the public who pass harsh judgement and refuse to offer us a chance to educate them.
6. What are some common misconceptions individuals may have about frontline healthcare workers, and what advice would you impart on such individuals?
Oftentimes, for the uninitiated, there is a common misconception that healthcare workers are 'dirty'. I have had obnoxious claims that I was very selfish to be working in healthcare during the pandemic. For such individuals, I would advise as such.
Nursing is more than a passion for me. The tough times will never overshadow the joy I get from seeing my patients walk out of the wards and back home. I am aware that being a frontline healthcare worker puts me and my family at higher risk for infection. However, there are many proven effective methods of infection control that have already been put in place, and all healthcare professions have been trained rigorously.
I am certain that this pandemic will pass soon, with corporation from all Singaporeans and with the valiant efforts in the fight against COVID-19.
7. Moving forward, what are your hopes for Singapore's future in lieu of this pandemic?
I hope that Singaporeans would grow to have tolerance for others. Racism and discrimination have resurfaced during this pandemic, and have no place in the Little Red Dot we call home.
While there has been a lot of negatives, there has been an overwhelming response from locals in support of essential workers. From hawkers packing food for healthcare workers to Singaporeans donating SingapoRediscover vouchers to migrant workers, these small acts of kindness highlighted the heart-warming compassion of locals.
I hope that even when the pandemic situation turns for the better, we, as Singaporeans, will continue to foster our 'kampong spirit. While it has taken yet another pandemic to bring this issue into the light (the former being during the SARS period), multi-racial Singapore is here to stay after things tide over.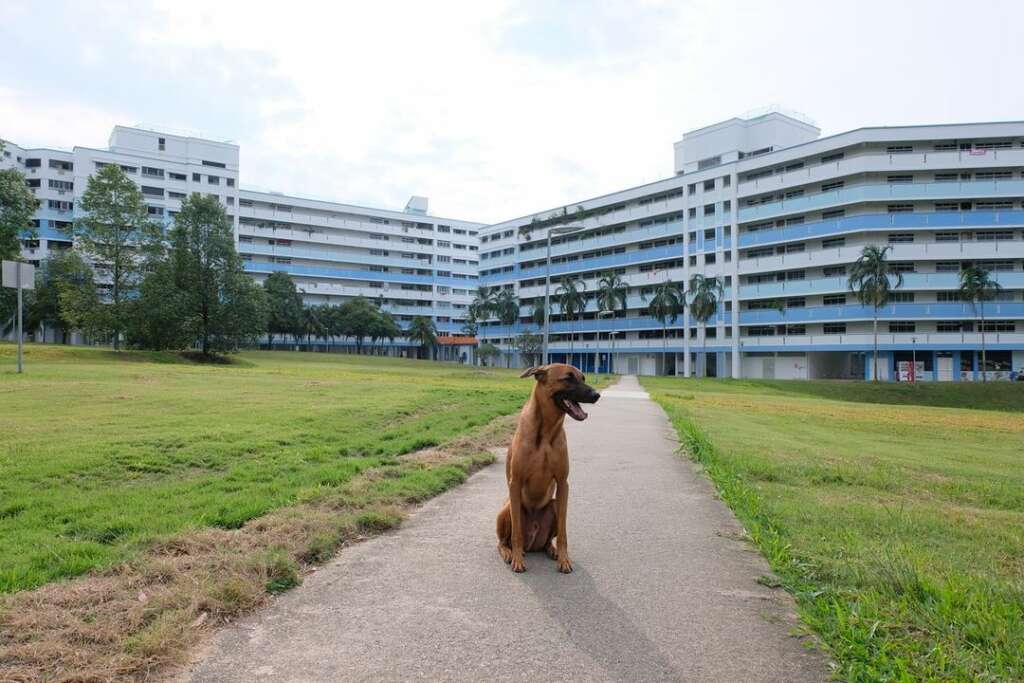 Also, I hope that Singaporeans learned that everyone, and every job, have a place in society. While we shine the light on essential workers, we must not forget those in other sectors such as in the F&B, business and economy, social services and more. Everyone in Singapore, no matter how intrinsically or distally involved, keeps Singapore running.
---
Thank you Rachel for your input and experience.
* This blog is designed to be a community where pet owners can learn and share. The views expressed in each post are the opinion of the author and not necessarily endorsed by Pawjourr. Always consult your veterinarian for professional advice.