This Christmas season, everyone is excited to extend a hand and respond to the spirit of giving. What better way to give back to the community than to share a bowl (of food) with those who need it the most? Pet Lovers Centre and Pet Lovers Foundation are organising their annual fundraising event — The 14th Annual Pet Food Drive 2021 — to lend support to three Animal Welfare Groups (AWGs) in Singapore.
This pet food drive provides a fresh opportunity for all of us to serve our less-than-fortunate four-legged friends by contributing whatever food we can. Let us remember the pawpals who can't speak for themselves and have nobody to care for them save a few generous hearts like yours.
About the organisers
Pet Lovers Foundation
Set up in 2009, Pet Lovers Foundation is the first non-profit organisation in Singapore that aims to help animal welfare organisations in Singapore. Besides contributing financially to them, Pet Lovers Foundation also helps them raise funds through jointly developed and organised programmes and activities.
Pet Lovers Centre
Pet Lovers Centre (PLC) is collectively the largest and only pet care retail chain in South East Asia. A household name today, PLC has become the standard-bearer for responsible pet ownership. The retail chain offers the widest and freshest range of products, continuing to delight pet owners and pets alike ever since its founding in 1973.
Meet the beneficiaries
1. Animal Lovers League
Animal Lovers League (ALL) aims to encourage the public to adopt instead of buying animals, and endeavour to rejoin the animals at ALL with loving and committed families. In addition to feeding strays, ALL also brings animals for veterinary check-ups when they are sick or injured, to vaccinate them against illnesses, and to neuter/sterilise them.
2. Cat Welfare Society
The Cat Welfare Society (CWS) aims to make Singapore a stray-free country and prevent the inhumane culling of cats. Their work includes community mediation and frontline intervention, community cat population management, as well as education, outreach, and advocacy.
3. Mercylight Animal Rescue & Sanctuary Limited
Mercylight Animal Rescue And Sanctuary Limited holds a strong desire to care for animals by helping them find the right homes. The group promotes compassion for animals through the provision of animal welfare services and the prevention of cruelty to animals.
Here's how you can help
Last year's pet food drive was a resounding success. The beneficiaries of the pet food drive received a whopping $653,332 in contributions — that's 39,908kg of pet food pledged! This year, Pet Lovers Centre and Pet Lovers Foundation hope to match or even better that value. Your help will come in handy.
For the 14th Annual Pet Food Drive, the chosen premium pet foods are:
1st Choice
Burp!
Fish4Cats
Fish4Dogs
Simply go to any Pet Lovers Centre and The Pet Safari stores to pledge these products. Alternatively, you can call 1-800-PET-FOOD (1-800-738-3663) or pledge online through here. Contributions are open from 26 November to 12 December, so don't miss out on it!
All food pledged will be ordered fresh after the campaign and ready in Q2 2022. Beneficiaries will feed the animals in the shelters with the contributed pet food and share it with other smaller AWGs, as well as fosterers and cat caregivers.
Here are two wrap-up videos from our former beneficiaries, Causes for Animals Singapore and Cat Welfare Society.
You can view their campaign details in the poster below!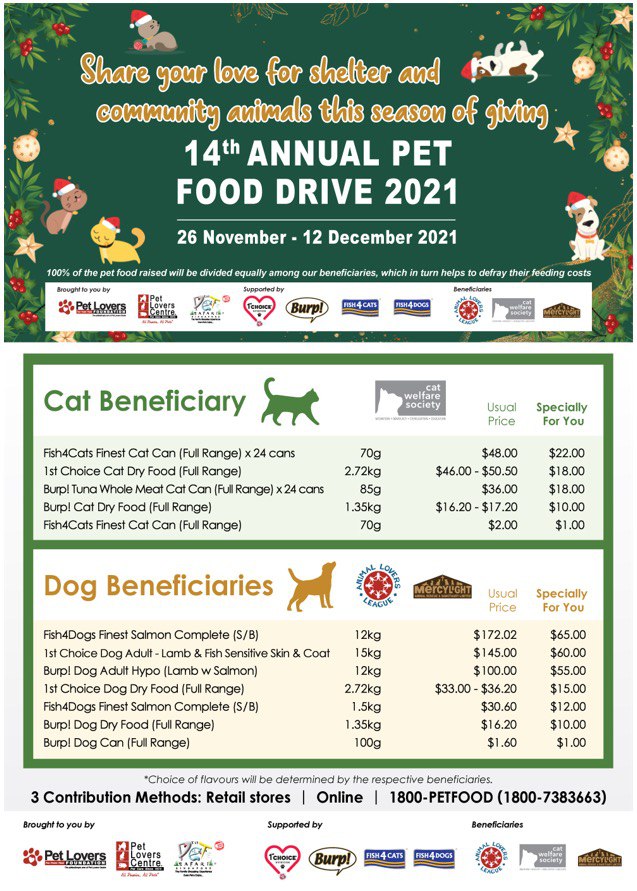 * This blog is designed to be a community where pet owners can learn and share. The views expressed in each post are the opinion of the author and not necessarily endorsed by Pawjourr. Always consult your veterinarian for professional advice.